Techtalk
Visionary
Technology development at Ginzinger
Knowing today what will be important tomorrow: That is the task of technology development at Ginzinger electronic systems. The team from development and customer consulting is constantly on the lookout for future trends and technologies.
The development and customer consulting team is constantly on the lookout for the important trends and technologies of the future in order to secure its customers' lead on the market. In this way, fully developed, pre-implemented hardware and software components for series devices can be provided quickly if required.
In the Ginzinger technology development process , various sources are used to analyze and identify future topics and technology trends. These include current project inquiries as well as a close look at customers' markets and current technical trends. What is currently being discussed where? Where is the journey heading? What are the wishes of Ginzinger's customers?
With pre-developments, customers are supported in quickly testing and developing new markets and target groups. In this way, Ginzinger's customers ensure that they are faster than their competitors with innovations and save costs in the process.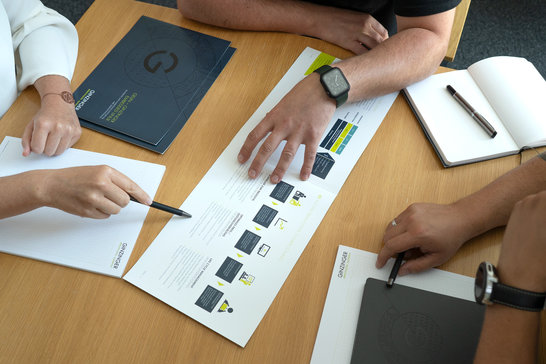 Current technology development topics at Ginzinger
Do you need support in your current project?
Ginzinger is your reliable partner and full-range supplier with innovative ideas, high-quality production and in-house development. Well-founded know-how, extensive expertise, mature and tried-and-tested standards and processes give our customers security. The result are long-term available solutions for sustainable success.