Successful together and at the same level
We value personal contact and ensure competent implementation of your project. In doing so, we focus on sustainable solutions that give you a technological advantage. Get an idea of how we work and how a project with us works.
Our partnership
Sustainable and successful solutions - tailored to your needs
How we work is what sets us apart and is the basis of our long-standing success story. The ISO ISO 9001 and ISO 13485 certifications clearly demonstrate our high process standards and detailed traceability in production.
We work with a solution focus on sustainable products and are committed to the highest standards.
In doing so, we adapt our approach and structure to your project circumstances. Thus, projects can be handled in an agile and iterative way or as a classic waterfall sequence.
Would you like to learn more about working with us?
A STRONG PARTNER IS THE KEY
Step by step to the solution
A project flow with Ginzinger
01
Agree on Project Scope
We love a challenge!
In the first step, we agree on the goals and the framework conditions of our project.
Your questions
Does our service fit your requirements?
Does our philosophy match your ideas?
Are functions, time and cost frames realistic?
Result
Agreement on cooperation
Agree on goals and framework conditions
Define contact persons
02
Requirements Management
The world keeps spinning
Ideas and requirements also change in the course of a project. This requires professional requirements management as foundation for economic innovations.
Your requirements
Economical realization of your idea
Cost-effective manufacturing of your product
Technical expertise
Fully realizing the potential for optimization
Our services
Creating a common understanding of the task
Gathering, describing, completing and prioritizing requirements
Elaborate a proposal
03
Development Concept
Many paths leading to success!
We provide different possible solutions and facts for decisions. We agree HOW your task will be solved and always keep an eye on the costs.
Your requirements
Innovative solution that takes you further
Best price-performance ratio
Long lasting hardware
Robust software
Our services
Technology consulting
Demonstration of possible solutions
Identify cost factors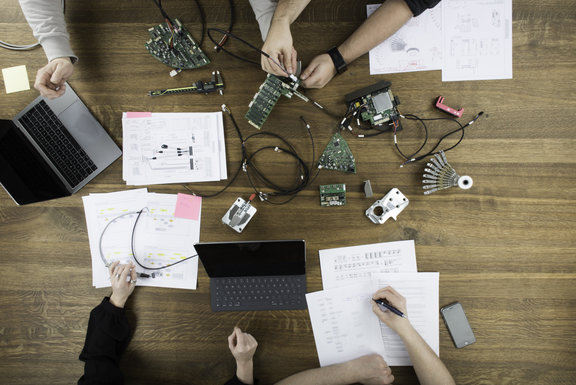 04
Hardware and Software Development
Implementation up to series production readiness.
We develop customised electronic solutions based on carefully selected durable, robust hardware and software components that have been tried and tested thousands of times. With us, you have ONE contact for the complete embedded system.
Your requirements
Professional realisation of the agreed solution
Stable solution with highest quality
Our services
Elaboration of the solution in detail
Hardware design
Programming
Integration
Drawing up plans, software and production data
Development and release samples
05
Industrialization
Now it's time for series production.
We develop testing equipment and devices for series production, set up the necessary processes and prepare all machines and systems. From now on, you can call up your product from us in series production at the agreed price and in the highest quality.
Your requirements
On-time availability of the series product
Optimal price-performance ratio
Our services
Prepare series production
Set up supply chain and test equipment
Pre-series product and testing
06
Series Production
We deliver on time.
We ensure long-term availability and traceability and take care of cost control, logistics and repairs.
Your requirements
Sustainable, on-time delivery
Best quality at an optimal price-performance ratio
Our services
Stable production in quantities
Logistics and repair handling
Ongoing cost control and product maintenance
07
Maintenance, Repair Service and Aftercare
Over the entire service life and beyond.
With our services, you fulfill your guarantees and obligations to customers and regulatory authorities 100% over the long term.
Your requirement
Supporting your customers throughout the product life cycle and beyond
Our services
Obsolescence management
Software security monitoring
Spare parts inventory
Archiving tools and documents
Maintenance
Whether in development or production: Ginzinger supplements its own know-how with a network of technology and solution partners. We can also coordinate these directly in the project - as desired.