Production Technology at its Best. We Invest in Precision, Quality and Performance.
With one of the most modern machine parks, we offer you new orders of magnitude in precision, quality and throughput in EMS services. Constantly increasing demands from industry and end customers have prompted us to make the largest investment in the company's history - in our new production line. Consisting of several subsystems, we have created a production line that is second to none.
Electronic Manufacturing Services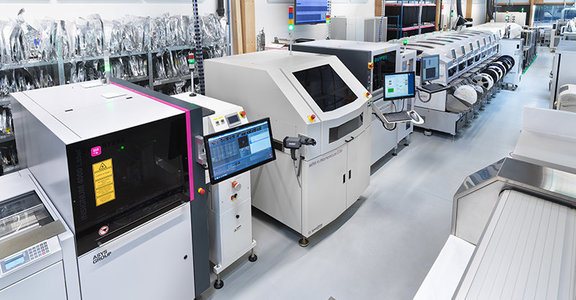 Throughput and Precision
SMT Production Line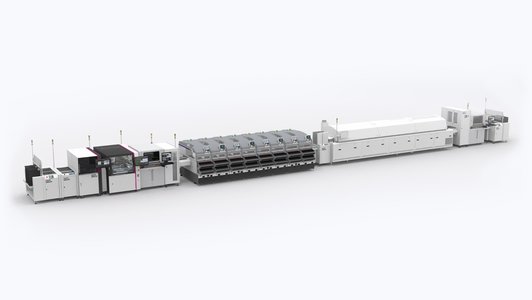 Measured and tested
AOI - Automatic Optical Inspection
After the soldering process, the electronic assembly is measured in the AOI using a 3D measuring process. If a defect is suspected, the affected assembly is ejected for further inspection and rework. The following parameters can be automatically checked and measured:
Solder meniscus, soldering
Polarity of components
Coplanarity of component and printed circuit board
Alignment of components
Short circuits due to soldering defects
Highlights of the AOI system at Ginzinger:
Precise 3D measurement with 2µm resolution
Complete inspection of all components and solder joints
Inspection of coplanarity, tin volume and other quality features
Feedback with the entire production line
Massive reduction of manual post inspection

Fully Automated Soldering
In order to solder THT components quickly, fully automated and in highest precision, a selective soldering system can be used. The ECOSELECT 4 from Kurtz Ersa is ideally suited for small to medium-sized series where flexibility is paramount. The machine has a high-quality, continuous roller transport system and is equipped with power convection. This ensures optimum homogeneous heating even for the most difficult components. A programmable precision spray fluxer with integrated spray jet control ensures the precise and economical application of flux, both in single spots and in entire paths.
A configurable double-seal system makes it possible to work simultaneously with two different supplies and with solder nozzles of different diameters. Connector strips, for example, can be soldered quickly with a large-diameter nozzle, while solder joints that are difficult to access can be soldered with a very narrow solder nozzle.
Highlights of our selective soldering system:
Flexibly integrable soldering system: inline and batch operation
PCB mounting 508x508 mm
up to two spray heads
up to two stocking systems
Power convection
double crucible y/z-variable
automatic nozzle activation
extension to full inline machine by independent flux module
Automatic measurement of solder wave height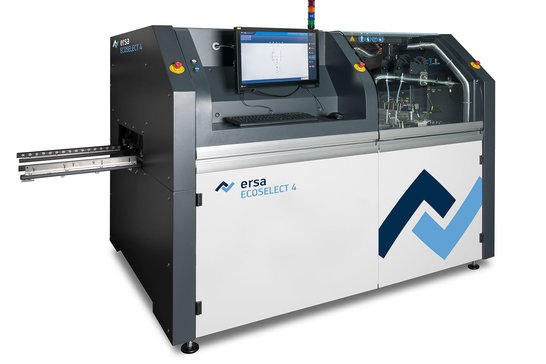 Precisely separated
Depanelizer
With the LOW4233XL laser depaneling machine, rigid and flexible printed circuit boards can be separated automatically and precisely. Different materials and thicknesses are separated with reproducible high cut quality, low stress and low dust. Sensitive components are protected. Image-supported teach-in programming ensures automatic position correction in the depanelizer and maximum precision.
Highlights of the depaneling system:
UV nanosecond laser
Possibility of separating pre-milled aluminum circuit boards
Cutter breakage control
Flexible pick-up systems for the PCB blank
Air ionization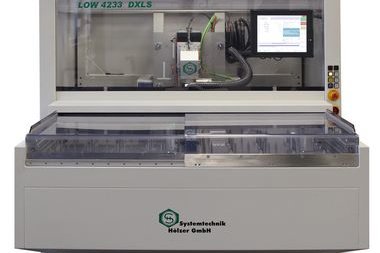 We have the insight
X-ray System
With the Nordson Dage Quadra 7, Ginzinger electronic systems has one of the most modern X-ray analysis systems. Electronic assemblies with BGAs and LGAs can be analyzed with regard to solder quality.
Potential weak points are immediately detected thanks to high-quality X-ray images and computer tomography. Whether component positioning, possibly existing voidings in the solder joint, or short circuits between the potentials. Using an X-ray detector, images can be taken with a 6.7 megapixel camera and 0.1 μm resolution.
Tomosyntheses or complete µCT images are obtained in a short time. The 3D inspection enables detailed sectional or layered images of electronic assemblies and components. For multilayer printed circuit boards, specific planes, fractures or cracks can be viewed. Molded components can be inspected, as well as relevant solder joints with regard to fill level and other quality characteristics.
Ginzinger electronic systems also offers X-ray analysis as a service for industries outside of electronics.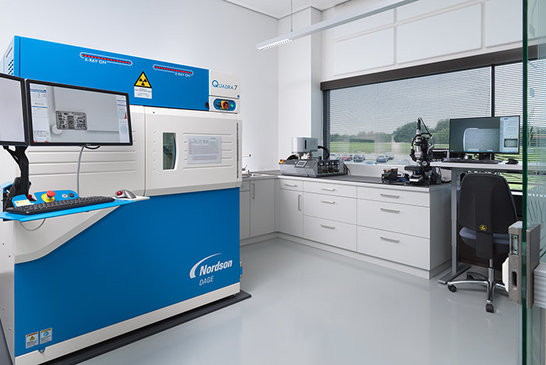 Extensive test procedures
Metallurgy Lab
The metallurgy laboratory at Ginzinger electronic systems has numerous capabilities for in-depth destructive testing of solder joints, vias and copper layer thicknesses.
The inventory list includes:
a grinding-polishing machine for metallographic preparation
a cutting machine
a high-resolution microscope with 2000x magnification
a universal testing device for tensile and compression tests according to EN62137-1-2.