Ginzinger electronic systems
Customized & Robust
Embedded Hardware and Software
Embedded systems are ubiquitous and an integral part of everyday life. In the vehicle, in the machine and in the household, they perform their service mostly in secret.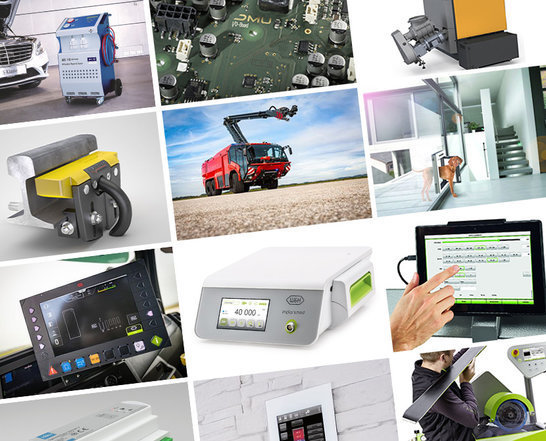 Perfectly matched hardware and software components form the platform for your device. Learn more about our way of working and your advantages.
Mikrocontroller-Designs
100% tailor-made for your device - no more, no less
Why Mikrocontroller?
Microcontrollers integrate many functions on one chip: microprocessor, peripheral functions and sometimes also memory for program and data are contained in one component.
Microcontrollers are inexpensive and available from many manufacturers in different product families and configurations. Many microcontrollers offer power-saving modes for continuous battery operation.
Microcontrollers are selected in performance and features exactly for the respective application.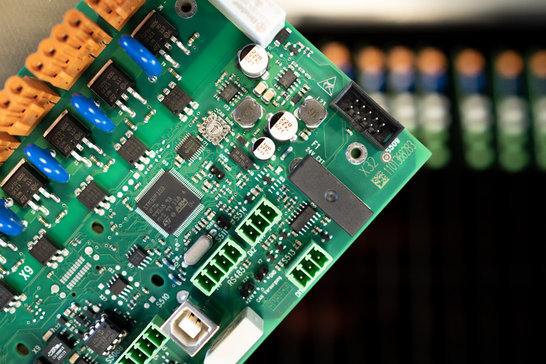 Small, cost-effective powerhouses
We know microcontrollers and get the best out of these little all-rounders.
We develop your device at the optimal price/performance ratio.
With EVcore Run-Time, you get the turnkey platform for your application software without any balast.
We implement testability free of charge down to the lowest register level.
Ginzinger Microcontroller Know-how
Ginzinger im ST Partner Program
The STM32 controller family is based on 32bit ARM Cortex-M processors. Product combinations for applications with high performance, real-time capability, digital signal processing, low-power and low-voltage operations are thus no problem.
They have been tried and tested over many years and are used at Ginzinger in a wide variety of customer solutions: the STM32 microcontroller derivatives, sensors and discrete semiconductors from the manufacturer ST Microelectronics. Whether in heating controls, operating units for tiled stoves, ski service machines or in premium animal entrance doors.
We are a member of the ST Partner Program to offer you first-hand ST know-how and to contribute our own experience to the ST community.
Systems on Chip - Internet der Dinge
The ESP32 family from Espressif is a family of small, low-cost all-rounders for networked devices. With WLAN and Bluetooth on board and up to two processor cores, these systems on chip enable the rapid realization of modern designs for the Internet of Things (IoT).
For ESP32, there are tons of design suggestions for hardware and software in the maker scene to quickly create functional prototypes. The systems are also very well suited for professional products such as sensors, actuators, gateways and consumer devices.
We know the above microcontroller families inside out and offer very comprehensive solutions for almost every application. But sometimes it is necessary to rely on other manufacturers and controller families. Our developers have the overview and are happy to advise you.
High-End Embedded
Linux, Multimedia, Connectivity, Cloud and more
Why Application Processors?
Application processors offer more computing and graphics power and are used with modern operating systems.
Modern application processors offer multiple processor cores, memory management, cache memory, multimedia and crypto accelerators, and high-performance peripherals on one chip. Application processors are used for applications with fluid, high-resolution, graphical user interfaces - as known from cell phones. By using operating systems such as Linux, extensive software packages for network protocols, web services or databases can be used.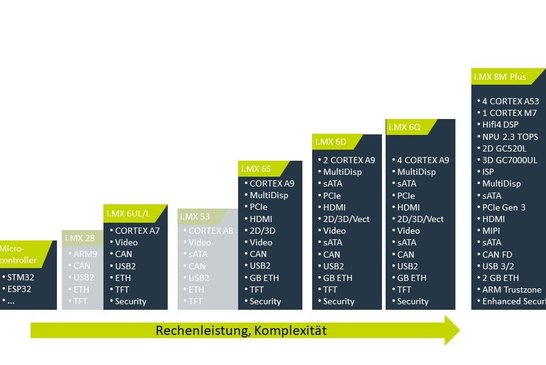 Scalable Computing Power for any Application
We create advanced user interfaces.
We connect your device to the Internet of Things.
We create and maintain your platform over generations.
We manage complexity. You focus on your customer value.
GELin - Ginzinger Embedded Linux
Robust platform for your devices.
Human Machine Interfaces
The first impression counts
Why Human-Machine Interface?
First impressions count, and smartphones undoubtedly set the design trends. High-quality slim glass surfaces are the measure of all things. Seamless integration of the surface material with the electronics and sensor technology is a basic prerequisite for this. All these requirements demand very special know-how about modern material, display and touch technology.
When it comes to operation, the familiar mechanisms from the smartphone world are also pushing their way into the industry. Appealing icons and intuitive, fluid operator guidance are the benchmark. The user is used to smooth interaction. Swiping and multi-finger gestures as well as voice control are standards that are also expected in an embedded system.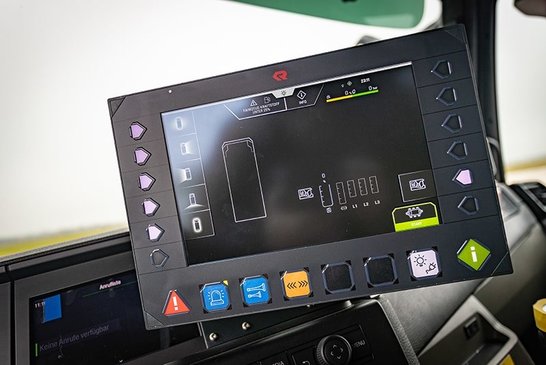 Human Touch for Your Device
We visualize - from the LED to the graphic display.
We create intuitive operation - from switches to touch surfaces.
Human-machine interfaces of the future - from gesture control to voice command.
Ginzinger User Interface Know-how
Graphic displays give a first impression of the device. Many requirements have to be taken into account for the selection:
Brightness, contrast, brilliance and color spectrum
Control, software and backlighting
Shock resistance, tightness, scratch resistance and material of the surface
Use indoors and outdoors, as well as in sunlight
Bonding, mounting and temperature range
Long-term availability and price
At Ginzinger, we have many years of display experience and a network of competent suppliers. We have realized countless display projects for various target markets.
We realize modern devices with the right combination of intuitive touch operation or other input elements such as joysticks, rotary-push encoders and haptic keys.
For control elements, the area of application must be taken into account from the very beginning. For medical devices, seamless cleaning and disinfection must be ensured. Devices used on construction sites or in commercial vehicles must be easy to operate even when wearing gloves. In outdoor areas, liquids or environmental influences must not lead to operating errors.
We have all long since become accustomed to issuing search commands in our cell phones by voice command. Even in inexpensive vehicles, voice controls are standard today.
Whether touch-free gesture control or multi-language voice recognition: We at Ginzinger realize the device control of the future for you. With voice control, we also have the audio part under control to separate the actual speech well from background noise.
Power Electronics
Performance and energy efficiency for your products
Why Power Electronics?
No control system can do without power electronics. It is a central component in the control of consumers, in energy generation, but also in the energy-efficient design of devices. Modern electronic components are used to control motors and actuators. Advanced feed-in devices and converters are used in distributed, renewable energy sources such as photovoltaics or small power plants.
When using modern battery technology, sophisticated battery management systems are used to operate the energy storage devices in a long-lasting and gentle manner. When processing large amounts of energy, safety in the sense of security must never be neglected. Experienced developers are needed for all these challenging topics.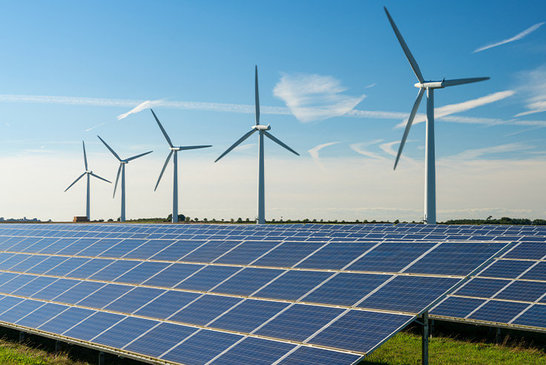 Electronics with Maximum Efficiency
We realize Green Embedded Systems.
We optimize battery management for low-power designs.
Using our know-how to safely switch large powers in power distribution systems.
We develop efficient controls from piezo drives to synchronous motors.
Ginzinger Power Electronics Know-How
The spectrum of electronic controls is as diverse as the world of motors. The aim is always to convert electrical energy efficiently and precisely into motion. We at Ginzinger have implemented control systems for a wide variety of actuators. From piezoelectric surgical knives to high-speed spindles for milling machines.
Mobile devices and devices distributed in the field must operate independently of the power grid. The electronics must be designed to be as energy-efficient as possible. The software must also support different power-saving modes. Ginzinger realizes devices that can be operated for many years without changing batteries.
From energy-saving control of sodium vapor lamps in tunnel construction to LED lighting in dentist's drills. Ginzinger Elektronik always puts your application in the right light. We have many years of experience with the handling and control of different illuminants.
Control and Regulation Technology
Why Control and Regulation Technology?
Controls provide for automated processes and are mostly realized with real-time capable embedded hardware and software. Analog and digital inputs are processed and setpoints for actuators are calculated and output as suitable manipulated variables in precisely defined time sequences. In the case of closed-loop control, the actual values achieved in the process are also measured and the reference variables are automatically readjusted until the desired final value is reached. Due to the permanent feedback, closed-loop controls ensure that the process variables are reached and maintained exactly, quickly and with high quality, even under the influence of disturbances.
In control engineering, extensive know-how about dynamic, physical processes, about the behavior of controls in the time and frequency range, measurement technology, as well as methodological knowledge for optimization is necessary.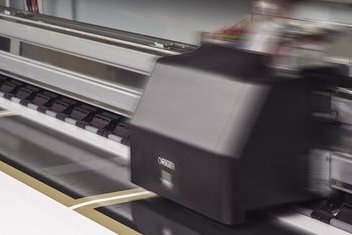 Precise Control of Physical Processes
We develop programmable controllers for many applications.
We analyze and optimize complex, dynamic controls.
We simulate and design control loops.
We bring many years of experience in system design and optimization.
Ginzinger Control Technology Know-How
The quality and transient response are not only dependent on the hardware. Designing and optimizing control systems for different applications requires experience. Ginzinger builds on many years of practical experience, methodological knowledge and theory of control engineering. With us you are sure to get not only a robust hardware and software platform for your device, but also customized algorithms and parameters to control your process variables. We also have experience with state control and learning systems.
We are your partner for embedded hardware and software.