Techtalk
Latest
Technology & Weisswurst - Oktoberfest Edition
On October 9, 2023, the internal technology demo "Technology and Weisswurst" took place at Ginzinger for the fourth time. The aim of the event: to arouse broad interest in current technologies within the company.
Technology demo for employees
On October 9, Volume 4 of "Technology and Weisswurst" took place at Ginzinger electronic systems - in keeping with the Oktoberfest season. The aim of the format is to arouse a broad interest in current technologies in the company and to promote a lively exchange between the departments. In this way, we ensure technological progress for our customers by driving new trends & processes in production and development.
Featured topics
This time there was a colorful mix of topics consisting of the following presentations:
The best in series - presentation of the most common assemblies in production
So that the spark (not) jumps over - ESD at Ginzinger
A look at the world - cameras for our hardware
New software is needed - GELin Release 23.10
New ideas are needed - Innovation for all!
Secret knowledge - book presentation
The last and most important point was the conclusion in Oktoberfest style. Afterwards, all participants were served white sausage, potato cheese and, as a small thank you, a cool "I mog Technik" life cake heart.
Oops, an error occurred! Code: 2023112810073256b9085c

ESD at Ginzinger
So that the spark (not) jumps over
ESD stands for electrostatic discharge. It is a serious problem in the handling of electronic components and assemblies. To prevent this in advance, it is important to ensure a controlled "soft" discharge in the production area that is harmless to electronic components.
Reinhard Schmeitzl, ESD coordinator at Ginzinger, showed us the latest findings and tools in house to be able to guarantee ESD protection from incoming goods, through electronics production to shipping without any gaps.
The country needs new software
GELin Release
For more than ten years, Ginzinger has relied on Linux as an operating system platform for customized, sophisticated electronic devices. The use of a powerful operating system simplifies development, maintenance and support of embedded systems. At Technologie & Weißwurst, the highlight of the current Maintainance Release 23.10 was presented. Changes include
Buildroot 2023.2 --> 2023.2.5 security, bug fixes and features
Added support for MariaDB
Added audio toolkit "sox
Audio packages added
added firmware package to support SW8987 WiFi devices
Datasheet and technical details are available here: www.ginzinger.com/de/wissen-events/techtalk/gelin-die-ginzinger-embedded-linux-distribution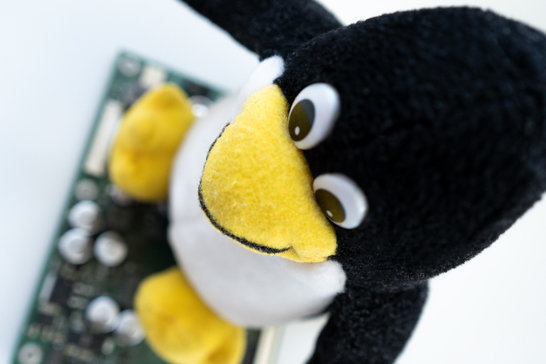 The country needs new ideas - innovation for all!
Mario Salhofer presented his concept for promoting innovation in the company. To enable everyone to make their contribution to innovation in the company in a relatively uncomplicated and simple way, he presented an exciting concept in the sense of "2 minutes 2 million" - in this context, the best ideas submitted by employees can win hourly quotas for realization in order to be able to put concepts into practice.
A look at the world
Smart camera systems for embedded systems
Hager Stefan from software development showed us what technology development at Ginzinger is currently dealing with in order to be able to react quickly to new customer requirements. Currently, the focus is on smart (video) camera systems that can also be used for Machine Learning Aapplications.
From image acquisition (use of image sensors), optics (optical path, illumination, projections,...), required mechanics (lens holder, housing, connectors) and of course electronics including software, Stefan explained to us what will be important in the future when using smart camera systems in embedded systems. He also went into more detail about the very powerful software tool "GStreamer" as a multimedia framework for creating, editing, steaming and consuming multimedia.