More than the sum of its parts
After production and testing of your electronic assemblies, we assemble them with all other necessary components to form a complete product. Well-trained and skilled electronics workers assemble, mount and wire all components to your finished product. We have a lot of experience with complex enclosures, controlled screw connections and bonding processes. We can quickly realise special requests in our mechanical workshop. This is equipped with a high-speed CNC milling machine and a 3D printer. With this, we also manufacture jigs for assembly, special packaging or housings for small series.
Completely assembled, the device leaves our premises in packaging ready for dispatch on its way to you or your logistics service provider. Of course, we also enclose the correct documentation with your unit. We also carry out system configuration, serialisation and the loading of programmes and secret keys according to the highest security standards.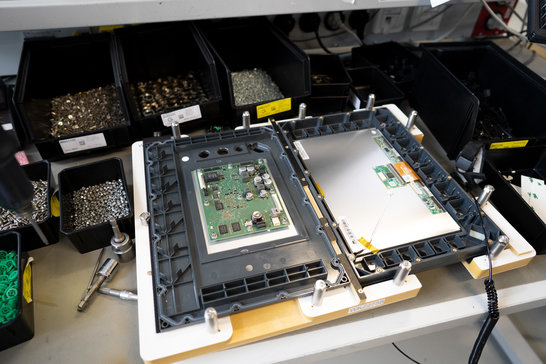 Your advantages
Complete unit assembly
Wiring of all components
Commissioning and testing
System configuration and programming
Package documentation, packaging and shipping
Benefit from our new dimensions in precision, quality and flow rate!