Techtalk
Latest
New EMC test station at Ginzinger
In 2021, the development department at Ginzinger electronic systems acquired new and extensive equipment for measuring the electromagnetic compatibility (EMC) of assemblies and electronic devices. What the customer gets out of it you can read here.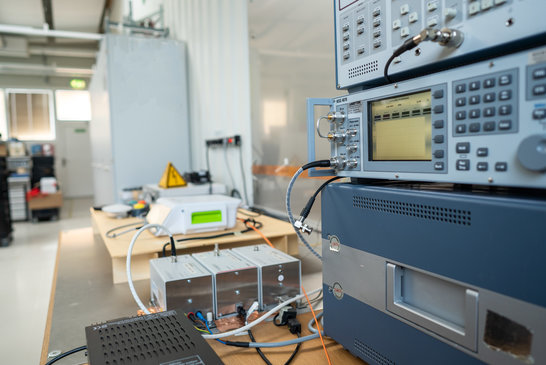 It's done: The development is finished, the product is as good as ready and ripe for the market. Although the project has already been delayed due to some necessary changes, it is now entering the final spurt. The only thing left to do is to go to the EMC measurement lab for the outstanding approvals. Since they are always very busy, a missed deadline for EMC testing and approval would become a bottleneck in the development project, causing developers and project managers to sweat in the end.
underestimated topic
What is EMC?
Electromagnetic compatibility (EMC) refers to the ability of a technical device not to interfere with other devices through unwanted electrical or electromagnetic effects. This also applies in the opposite sense: that new products are not disturbed by other technical devices. This unwanted, mutual interference has not only a technical but also a legal aspect. Every electronic device must be able to withstand defined interference, but at the same time must not exceed defined limits, otherwise other devices will be disturbed. Dangerous situations can also arise: Devices could malfunction due to interference and endanger people and goods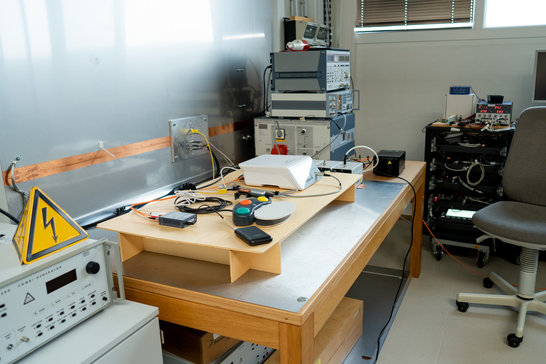 Line and field-bound interference
In EMC, a fundamental distinction is made between conducted and field-bound or radiated interference. Conducted interference is transmitted directly via supply or signal lines. In practice, this "phenomenon" is well known, for example, when an iron is switched on, i.e. the temperature is readjusted, and a crackling noise is heard on the radio.
Field-bound interference refers to the influence of electromagnetic fields that are emitted by conductive surfaces, lines or similar devices and thus affect other devices. In practice, this is mainly known as the influence of smartphones on loudspeakers. The familiar noise is heard in the loudspeaker.
Legal framework
Standards and limits
Many national and European standards define requirements for devices and specify limit values that must not be exceeded. Compliance with the harmonized EMC standards is also a prerequisite for devices to be placed on the market at all (e.g. essential for CE conformity). EMC measurements are therefore an essential part of the development of electronic devices.
Compliance with the required limits must be verified. This is done in specially equipped EMC laboratories. If problems or violations of the limits are encountered, corrective action must be taken. Valuable time is lost in the process, since good EMC laboratories are usually booked up well in advance. To avoid unnecessary loops, EMC pre-tests or pre-compliance measurements are carried out during development. These are based on the applicable standards, but usually do not meet them 100%. Often cheaper measuring devices are used. If these tests are successfully completed, the visit to the EMC laboratory is also more relaxed.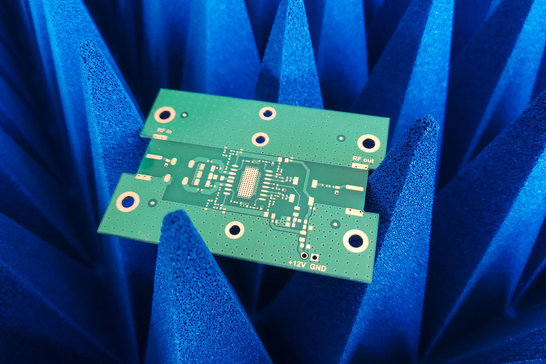 Test lab versus in-House testing
The advantages of in-house EMC testing are obvious at first glance:
Changes to the test object can be carried out easily at any time
Measurements can be performed during development
Redesigns can be checked without the need for an external laboratory
However, standard-compliant measurement setups are difficult to achieve. Since expensive and extensive equipment and competent manpower are also required for the extensive EMC tests, a trip to the EMC test laboratory is unavoidable in most cases, despite internal preliminary measurements.
New EMC measuring station at Ginzinger
Ginzinger electronic systems has had a small EMC laboratory for many years to perform conducted measurements in-house. This has now been expanded with a new test system for conducted RF injection. This system can generate interference in the frequency range from 150 kHz to 230 Mhz with a power of up to 80W. The necessary coupling and decoupling devices have also been expanded. As a result, the development team can now perform not only pre-compliance but also all standard measurements "compliant" in the conducted range when developing new electronic products.
Best equipped
The specially equipped EMC laboratory in development makes this possible. The equipment is extensive and consists of:
Interference measuring receiver
Network simulations
Test system for conducted immunity
Burst, surge and voltage interruption generator
ESD gun
Various coupling and decoupling devices
The test station is a standard-compliant test station. This means that even before visiting the EMC laboratory, you can be sure that there will be no surprises in the conducted measurements and that you can concentrate fully on radiated measurements. Since the conducted RF coupling takes a lot of time, you can save valuable time in the EMC laboratory in advance, which you can use for the measurement of radiated disturbances. Any problems can thus still be rectified directly in the external laboratory.
"With our EMC measuring station, we now have the possibility to carry out various measurements directly in our company in accordance with the standards. We also carry out these measurements during development. This means that there are fewer surprises later on in external laboratories. There is clear added value for the customer, as time and costs can be saved."
The equipment of the in-house EMC laboratory is completed by spectrum analyzer, probes, RF current clamps, etc., for measuring high-frequency radiated disturbances. These probes are especially helpful in optimizing already found interferences. Thus, weak points can be further analyzed and eliminated.
Start development with Ginzinger