Techtalk
Latest
Thanks to a very positive order situation, the space requirement at Ginzinger electronic systems is increasing. At the headquarters in Weng, the production and the warehouse are therefore currently being expanded by 1000 m2.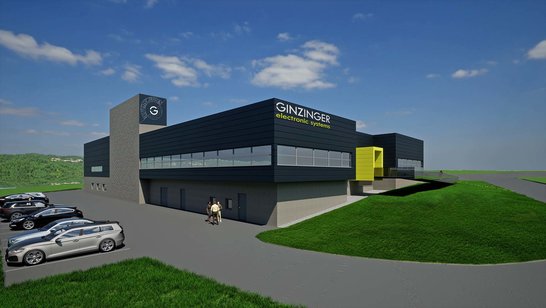 We are enlarging!
Thanks to a very positive order situation, the need for space at Ginzinger electronic systems is increasing. The headquarters in Weng Im Innkreis is extended by an additional production hall. On about 1000 m2 additional space for production and warehouse will be created until summer.
An area of about 1000 m2 offers in the future even more space for warehouse & logistics, an additional production line, as well as fully and semi-automatic production islands. The investment for the extension amounts to around six million euros and is supported by the European Regional Development Fund (EFRE).
1000 square meters additional
Expansion of production and warehouse
It is the increasing lack of space at the Weng site that has prompted the management of Ginzinger electronic systems to expand the existing company building in Weng im Innkreis this spring and to add a production hall. Additional space for production and storage is currently being created on around 1000 m2. The planned new construction of the company building at the future location in Altheim has to be postponed due to the current situation in the construction industry.
Since the construction costs have increased massively, the decision was made in favor of a smaller variant in the form of an attached production hall. In this way, the production obligations are met and space is created for the new orders. Development and customer support management will remain at the Altheim site as before. The new company building will come, but only in a few years.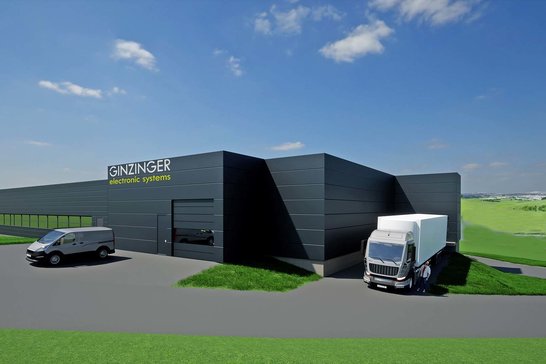 On the approximately 1000 m2, the space on the upper floor is mainly intended for production. The additional space offers room for another SMD line as well as for production islands for semi- and fully automated work processes. This relates, for example, to THT production and the selective soldering system. Investments are also being made in three new storage lifts. In the future, they will have twice the storage capacity of the previous lifts.
Thanks to the construction of a truck ramp, incoming goods are now received at the top and there is no longer any overlap in incoming and outgoing goods. This guarantees a better flow of materials. In the basement, storage/logistics and order picking will be expanded. A separate storage room for hazardous materials has also been planned. A climbing wall on the western side of the building has been planned for the employees.
"The customers themselves will not notice anything about the renovation work. The building will be completely finished, only then will the old storage lifts be cleared out and the material stored in the new lifts. Smooth production is assured. There will be no delivery problems - at least not due to our conversion work.
Our state of the art production