Techtalk
Latest
Donate instead of give
Ginzinger electronic systems has decided to make a donation to Lebenshilfe Braunau am Inn again this year instead of customer Christmas gifts. Read all about it here.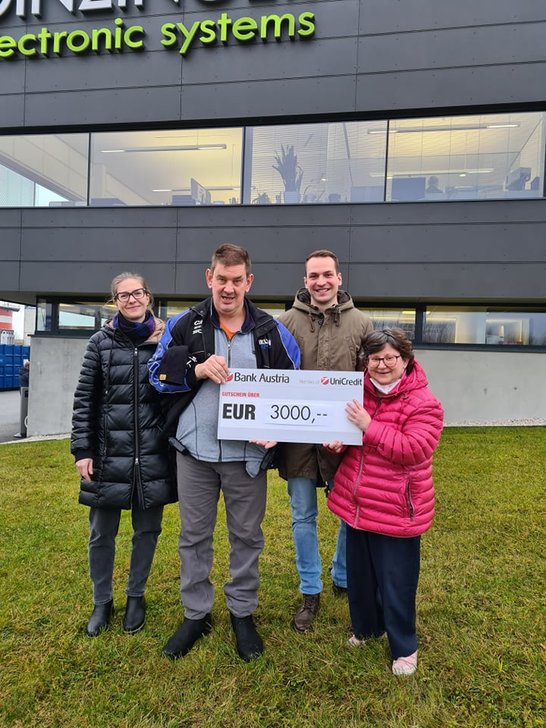 The Lebenshilfe workshop in Braunau is a long-standing, professional partner of Ginzinger electronic systems. Since 2018, people with intellectual disabilities who are employed in the workshop have been performing manual tasks, such as manually inserting component pins and packaging advertising materials.
Personal contact has been very limited in recent years due to corona. In order to be able to support the social institution nevertheless, the Wenger company is making a donation to Lebenshilfe in Braunau this year.
"We have decided to do without customer gifts at Christmas in 2021 as well and to support Lebenshilfe in Braunau as we did last year. As we have already worked together successfully and had good experiences, our donation of 3,000 euros will again go to this regional social institution."
The handover of the donation check to Marc Wimmer, manager at Lebenshilfe in Braunau and the residents Johannes Horwath and Marianne Leithner by Tanja Ginzinger took place on Wednesday, December 15, 2021 in front of the Ginzinger company building in Weng im Innkreis.
"We say thank you very much for the great support. We were very pleased that Ginzinger electronic systems thought of us again this year. With this amount, therapy materials can be purchased, as well as various sports and leisure activities can be carried out as soon as this is possible again."
Lebenshilfe currently accompanies and supports almost 2,000 people with intellectual disabilities at over 100 locations throughout Upper Austria. In Braunau am Inn, 31 people are currently accompanied by 30 caregivers. Ginzinger electronic systems wishes the Lebenshilfe in Braunau all the best for the coming year and especially good health!