Techtalk
Latest
New 30-second Covid-19 rapid test co-developed by Ginzinger
iCQT is the name of the device that provides a result in less than 30 seconds and detects infected individuals with about 88 percent probability.
Less than 30 seconds to the result
The world longs for normality. For a concert visit without worries, a carefree ski day or a school and work day without distance and online learning. To get a little closer to this dream, the Austrian companies PACT Group and AMX Automation have developed a COVID-19 quick test that impresses with practicality. Ginzinger electronic systems is responsible for the development of the software and hardware as well as for the production of the electronics.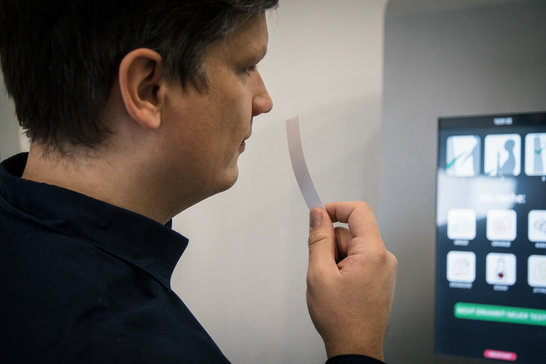 How the new Covid-19 rapid test works
Called iCQT (interactive COVID Quick Test), the device provides a result in less than 30 seconds and detects infected individuals with about 88 percent probability. Tested are two of the most common COVID-19 symptoms: Fever and temporary loss of sense of smell and taste, which occurs in approximately 80% of infected individuals.
For fever screening, a method has been developed that promises precision down to 0.1 °C. For this purpose, a high-resolution thermal imaging camera is used to measure the core body temperature in the tear duct and pharynx and validated by means of temperature matching. In a second step, olfactory testing is performed.
A paper strip is provided with a randomly selected odorant and handed out. The test person smells it, recognizes a scent and confirms it on the integrated touch screen. Only persons who pass both the fever screening and the olfactory testing are granted access - all others are advised to undergo a COVID-19 medical test immediately.
Electronics made by Ginzinger
For the development of the electronics, AMX Automation turned to the full-service provider Ginzinger electronic systems. It developed both the hardware and the control software for the iCQT. A microcontroller controller based on an STM32 F407 is used as the hardware component for the Covid rapid test. This is used to determine the reference temperature of the device (ambient temperature) and to control the mechanical components. For the evaluation of the test person's sense of smell, one of six scents is applied to a test strip with a dispenser using squeeze valves and dispensed. This must be recognized and selected and confirmed via the display. For the software, Ginzinger electronic systems relies on its home-made real-time operating system "EVCore", which has proven itself in many applications.
Application area
The iCQT has been designed for wide-ranging practical use: whether in the hotel and catering industry, in the sports, cultural and event sector, in schools, medical facilities, shopping centers or companies that want to protect their staff in the best possible way. The system is designed for large-scale testing and impresses with environmentally friendly efficiency. The cost per test is approximately € 0.07. Unlike other COVID-19 tests, there is no plastic waste or contaminated hazardous waste, only paper strips to dispose of.
Assistance by (medical) staff is not necessary, as the testing process is interactive and fully automated. The iCQT functions as a stand-alone device, but can also be integrated into existing access systems (e.g. turnstiles at mountain railroads, personnel access systems, people guidance systems). It is also possible to record visitor data in compliance with legal requirements.
The iCQT was developed in a cooperation between the Tyrolean Pact Technologies Consulting & Trading GmbH and the Upper Austrian AMX Automation Technologies GmbH. The iCQT combines the know-how and experience of these three companies in an innovative product that can give us back a bit of normality.
Because one thing is clear: life must go on in safety.

Weiterführende Links:
www.pact-group.com/blog/
https://personenschutzprodukte.eu/collections/covid-test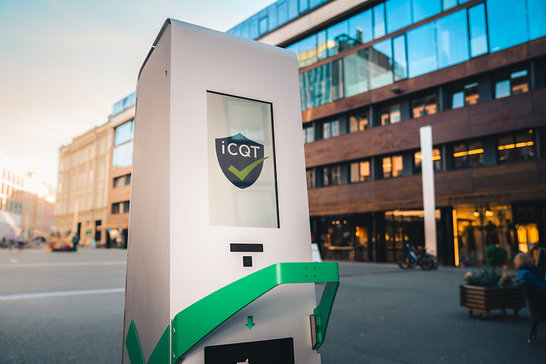 You have a product idea? We support you with the realization.